After the Internet came into our lives, there were social media platforms that enabled us to interact with other people, present our ideas, and to share squares of our lives. Through these platforms, we have increased the speed of learning and discovering new things.
Through social media, people started interacting with people miles away. Some social media users shared their lives, while others made their own free promotions by sharing what they did.
Through all these features, social media has brought lives together and brought people from all over the world together.
Businesses and anyone who wants to promote their ideas should take advantage of social media. In order to reach audiences on social media, you need to seek help from a social media expert.
Why Social Media?
Social media accelerates the exchange of information by removing boundaries and bringing people of different cultures and styles together. It also makes it easier to deliver their products to larger crowds, because it allows people to communicate quickly with each other.
For, social media is the best place to communicate with their customers. It also forms a marketing strategy to increase brand awareness and sales. Companies can increase their sales by advertising at more affordable costs in social media applications, unlike traditional marketing strategies.
4 Steps to Success in Social Media
There are many benefits of social media, but there are key steps that need to be taken for these benefits to be effective.
Define your target audience and define your content accordingly
First, you need to identify your target audience on the social media platform. If you're a women's clothing brand, your target audience is women. Or, if you're offering a service, your target audience is people who want to buy your service and take advantage of it.
You need to define your target audience well. Because you need to adapt your content to your target audience when you share it with your social media application. A women's clothing brand with a target audience of women prevents it from producing content related to animals, children or household products.
You should also remember that each social media platform has its own target audience. For example, Instagram produces more entertaining content, while Twitter is different. You should take the first step in using social media by choosing the most suitable platform and audience for your own business.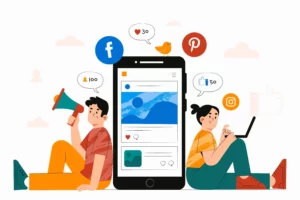 Place visual and video in your content
After determining your target audience for your content, the most important thing you need to pay attention to is the quality and attractiveness of your content.
Because technology is in every moment of our lives, my focus time is down. This makes it difficult for us to concentrate on the content for a long time when we read it. Therefore, having images or videos in our content increases interest in the content.
You can also ask your followers questions to enhance interaction on social media platforms or strengthen your communication with them by responding to the comments of their followers.
Feedback from your followers is one of the most important things you need to pay attention to when creating content. You need to figure out what your followers like and what they don't like and create your content accordingly.
Use Social Media Ads
You can advertise on social media to make your page reach more people. In order to advertise on social media, you need to determine the right audience and the right time.
To make social media ads more effective, you should build your advertising campaigns under the leadership of a digital marketing agency. Otherwise, if you click on your ads that are displayed to an unrelevant audience, you're only paying extra money.
Again, because of the ads that are displayed at the wrong time, you miss people in your target audience who might actually be your customers.
Improve your page continuously
If you want to gain awareness on social media, you need to repeat all these steps. If you stop feeding your target audience after producing content for a while, they will stop following you.
Different trends are emerging on social media every day. You can get a step ahead of your competitors by following these.
Being constantly interacting with your followers and improving your content will make your page even bigger and increase your awareness.
In line with all our explanations, you can make social media useful to yourself and your business by using it properly. Social media is the most accurate and effortless way to reach more audiences and gain awareness.